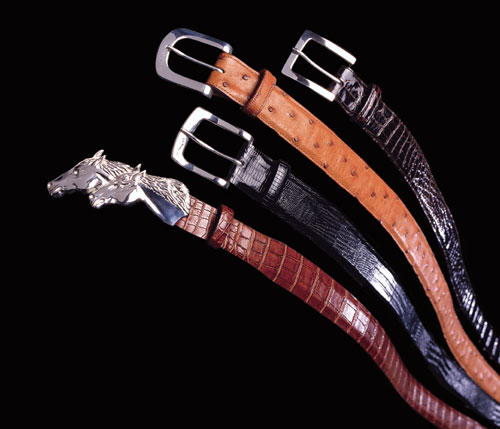 We make custom handmade belt straps in exotic skins or fine flat leathers. Buckles sold separately. 
Please complete order form or call (915) 599-1551 to place your order.
Please see

Belt Options

to select your belt design details
BELT SIZE – Length
Measure a belt you have been wearing with a similar buckle you plan to wear with your belt strap.
Belt size is measured not from end to end, but from where the leather folds over the buckle to the most used hole.
Holding a measuring tape firmly against the belt strap, measure from the fold back (the fold where your belt buckle snaps into place) to the current hole on your belt that you use. This will determine your belt size.
We make a standard 5 hole construction, so the measurement you provide us will be the center hole which allows you to go up or down 2 inches in size.
As a rule of thumb, your belt size is two inches larger than your pant's waist size. For example, if you wear size 36 pants, you will probably do well with a size 38 belt.
BELT WIDTH
Belt strap width is determined by the width of the buckle you plan on using.
Belts are either straight (same width) or they are tapered, which is wider in the back (center) more narrow on the front (end/tips)
Common belt configuration:

1 1/4 Straight  (dress or jeans)
1 1/2 Straight (khaki or jeans)
Taper can be 1-1/2 taper to 1-1/4
1-1/4 taper to 1
Special orders for Ranger belts, in which a narrower billet is sewn onto the length of the belt.  Ranger belts typically work with a small buckle set on a much wider belt  i.e. 1-1/2  with billet 3/4  (which will work with 3/4 buckle).