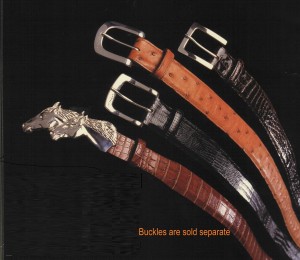 We can make you a handmade belt strap in exotic skins or fine flat leathers.            
(Please see order form at the bottom of the page or call 915-599-1551 to place your order)
BELT SIZE - (Length)
To determine your belt size you need to measure a current belt you use (with a similar buckle)  by measuring from the fold back (the fold where your belt buckle snaps into place) To the current hole on your belt that you use. This will determine your size.

KEEPERS  -  (Loops that hold your belt in place after it is buckled)
Select how many keepers you would like on your belt style. This is generally determined by the buckle style you want to use. You can remove keepers, but you cannot add them if the belt was not constructed for extra keeper.
J.B. Hill Buckles are available for purchase  in Sterling Silver or you can use one of your favorites.
If you want to use one of your buckles we ask that you send it to us to insure that we make your belt strap to size.
 WIDTH & STYLE  -  (Straight, Taper, or Ranger)
You will need to select a style and you will need to determine how wide you want the strap.
STRAIGHT -  same width entire length of belt.
TAPER -  wider in the back with a taper typically 1/4 to 1/2 inch smaller tips in front.
RANGER -  straight with Billet overlay straps on top of strap.
Width is typically determined by the size buckle you want to place on the strap.
Custom designs can be built to your specifications.
BELT EDGE-  (the finish on edges of the belt)
BILLETS – This is optional but some leathers will require billets (as the hides are not long enough for one piece)
ENGLISH – Spoon Shape  (Can use same leather on billet or contrasting center – back)
WESTERN – Western Scallop shape  (Can use same leather on billet or contrasting)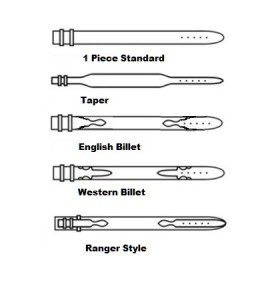 Order a Belt