Wear your Trophy!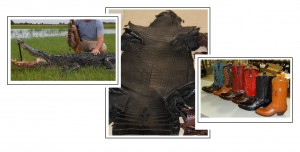 Using your own hide
J.B. Hill will make custom Cowboy Boots, Shoes, Belts, Wallets,  Purses  and other leather goods using  your  hides or skins  from Elephant, Alligator, Cape Buffalo, Hippo, American Bison etc.. from both international and domestic hunts.
We have hunters from all over the world that have  provided their tanned skins which were harvested from hunts to make Cowboy Boots, Shoes, belts and other accessories that can be used for a lifetime as well as a personal memento of their hunt.
What condition should your hide should be when you give to us
We will need your hides to be tanned and ready to go into production.
In most cases if you are going to harvest hides from a hunt, you can have the skins tanned in the country of origin.
Ask for references and samples on who you should use.  Your outfitters are very knowledgeable on this.
Choose colors that can be universal (if you select black or a dark color you cannot lighten the skin or change it)
 If you choose lighter colors they can be used in the lighter color shade for a project and then dyed into darker or different colors for other projects.
Please remember that "grey" colors can sometimes take on a "green" hue if you try to alter the color into brown shades.
What if your hide is in the raw state. Where to get it tanned & any other suggestion on tannage
If you have raw hides, there are several tanneries in the U.S. that can assist you with the tanning process.  Some of these are more specialized than others when dealing with specific animals.
Please do not use a taxidermist for this process as they don't typically have the knowledge to tan a hide properly for footwear & accessories , which can cause problems when you try to use if for leather products.
      American Alligators / Crocodiles

When the animal is very large the Hornback side of the skin is too thick and cannot be used in products.  Please make sure that you request a cut that you can use the belly portion.
We suggest you select a "Matte / Desert" finish – which has a natural luster and is less prone to cracking than the shiny "Classic"finish.
Color selection once again should be considered if want multiple items in different colors.  If you select a dark color it cannot be lightened.
Depending on how large and clean a hide is will determine how many products you can make from it.  We will lay out patterns and send you pictures so you can be part of the selection process and you will know ahead of the production what the skin will yield and the scale design in the products.
We recommend American Tanning in GA (website is Amtan.com) and they have a "Hunters Section" that will guide you to their requirements and costs.
     Misc. Animals
Other hides such as American Bison, Cape Buffalo , Hippo, Elephant
Per our earlier  suggestion  we would advise you to have it tanned in the country of origin if possible. If not you can have it tanned in the U.S.
Make sure to talk to the tannery and tell them what products you want made from your hides so they will know how to properly treat the leather (from the tannage to the weight / thickness of the leather)
Tanneries in the U.S. that can work with you-  Specialty Leathers in Iowa (website - specialtyleather.com) If you locate other tanneries, we would suggest you get references and samples of products they have produced.
What do we do with your left over hide
We will return the remainder of your hide with your product unless you want us to retain it for future projects.
How do you get fitted or place an order
We have several ways to get your sizing information and we stand behind all of these processes, whether you do the fitting thru the mail or we give you a fitting in person.
Fittings thru the mail – you can download the sizing forms from our website. Complete the measuring & outlining section and mail that to us.  We will then get a deposit in place and forward a pair of our boots to have you try on.  These boots are made in a standard size closest to the information you have provided.  It will allow us to gather additional sizing information (entry, tightness… etc..)
Fittings can be done in our showroom / factory location in ElPaso. We also travel to many events in the U.S. and provide fittings in these locations.  Please see our Updates and Events section on our website for these details.
You can opt for a standard size and waive the fitting but we would still prefer to send you a pair of boots to try on to verify your size.
You can place your order by filling out our order form on line, or just pick up the phone and customer service will take your order over the phone.  This is especially easy when you have an established fit with us.
If you want us to come to you to provide you with the fitting or fittings, we just require that you pick up our staff's travel expenses.
How much is the cost
We have a 1 (one) time fitting fee and last build charge (form used in sizing) that we retain for you for $ 100.00.
Our basic boot (when you provide the hide) is $990.00.  This is the same if you want the entire boot made from your hide or only the foot portion.   We can provide an entry level leather (calf, kangaroo, water buffalo, horse) for the tops in this price quote.
You can choose to upgrade your designs with inlays, toe selections, initials etc. for additional fee's.
Tax is charged only if the products are shipped in the State of Texas.  Shipping is $35.00.
Any other questions or concerns please contact us and we will be happy to assist you.
Email- customerservice@jbhilltexas.com